Marketing Your 5 Star Reputation
You already know that your practice needs to be visible in online searches if you want to attract more new patients.
The problem is that when your website is right next to your competitor's in the search results, you need to ask yourself —
What makes a patient choose your practice over theirs?
More often than not, their decision will be based on your online reviews.
Facts:
Every potential patient has free access to the online reviews posted by your patients and others on sites like Google Plus, Yelp, CitySearch, etc. plus on industry specific directories like Healthgrades, These sites are more important than ever – not just because your online reputation is accessible to everyone looking for your services, but because search engines also take your reviews into account for their search results.
And the more reviews you have and the more positive your reviews are, the higher you'll rank.
You also know that having a 5 star reputation online is key in order for you to be able to attract more new patients and referrals to your services.
But it's up to you to Monitor, Manage and be proactive in protecting and controlling what others say online about you and your services in order for you to build and maintain your 5 Star Reputation online.
You want to proactively monitor and manage what others see online about you by LEVERAGING your 5 Star Reputation and using it to MARKET your services for better results (while reducing the need for other types of marketing expense to attract more new patients).
That is why you (hopefully) have:
Claimed and optimized your local and industry specific listings on the various online directories
You have set up a system to get patients' feedback, testimonials and reviews that are posted on your website, on your directories listings online, and on Social Media

You are also making sure that your staff realizes how important it is to ask your patients for their feedback that they can share as reviews online for others to see and share.
Of course, if you have NOT done all the above, right now would be a good time to get started…
But…If you have done all of the above, Congratulations!
You are now ahead of probably 95% of your local competitors who are NOT paying attention to how important it is to have and showcase your 5 Star Reputation to get more patients!
And we are going to make your efforts pay off even more with these…
New Tools for You
There are a few different ways for you to "showcase" those reviews so your prospects and patients can see them EVERYWHERE they happen to be searching online.
Now you can… MARKET your reviews online and on Social Media using Text, Images and Video Review Commercials like these:
a) TEXT- Typical review posted online by a patient ("I love their services. Always on time and very professional.")

b) IMAGES of your reviews-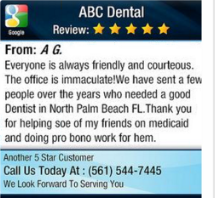 Our new Beta Video Review Commercials Program will create for you a 45 to 60 second Video that showcases your 5 Star Review by posting these videos online, on your website, on Social Media and on video syndication sites like YouTube.com and DailyMotion.com all Done-for-You.

These videos are filmed in a Hollywood style studio using professional spokes models reading your 5 star review on a tablet and shown with your office as a background. We use prime time animation and graphics and we add a clear Call-To-Action at the end of the video for viewers to Call You to Make An Appointment or come to your office.

In addition, you know how important videos are for helping websites rank on the 1st page of Google.
Now not only will you have these videos helping you reach a lot more prospects but these videos will also showcase how excellent you are by what others are saying about your services.
How to Take Advantage of These Tools to Get More Patients

Right now you can become a Charter Member of our new Beta Video Review Commercial Service for much less than what you are paying right now to advertise using the local mailers or postcards that are NOT producing any results for you. It's an opportunity that will not be available for too long as we have to limit how many of our clients we can add at this "beta program" price.
Contact us to find out how you can take advantage of our Reputation Marketing Services including this brand new Video Reviews Commercial service— for a lot less than others will be paying when we introduce this service to the general marketplace.
Comments are closed.