Reputation Marketing Services by MILE
MILE's Reputation Marketing Services include the following services and reports.
In our experience, Fortune 500 companies WISH they had this service available to them.
But now you can compete with the "Big Boys" for a lot less than you would be paying if you contracted these services individually.
You get the following as part of our unique and proprietary Reputation Marketing Service- faster and for less.
Your Feedback and Reviews-

we help you set up your own branded system to collect clients or patients feedback (via surveys) and collect and report to you any negative reviews BEFORE they show up online (this way you can do something about it- comment, engage with reviewer, find a way to fix the problem, etc.) Patients and clients get to share your Good reviews on your website, on Social Media and online.
Your online presence scoring – showing you just how well you're doing online
Online Reputation Trends – Track and compare how you are doing now compared to your past efforts = Check out the reviews you have gathered in any time period plus compare it to past efforts!
Reputation Statistics & Planning – Check how well your reputation marketing is going right now. Our system gives you a plan to increase your reputation automatically (almost on autopilot)
Reputation Marketing Reports – Gorgeous looking reports that we send to you via a direct link or PDF so you can determine how well you are doing and what else needs to be done
Reputation Scoring System – Showing how you are doing at any point in time
Citation Analysis – Shows where your are already listed and where we need to create a new directory listing
Monthly Reputation Plan – Shows you exactly what you need to do to get a 5 star reputation!
Social Media Analysis – Shows you exactly how much reach you have on social media (how many people "see" your posts and reviews AND quickly view in a word cloud what customers are saying about you and/or your services!
Feedback Analysis – Helps you keep track of what feedback you're receiving through your feedback pages- with review and survey results analysis
Training Center- To help you train your staff on what is reputation marketing, how important it is for the success of your business, and why they need to ASK for clients/patients feedback and reviews
Media Center- You will have access to our private Media Center where we will help you create all the media you need to ask for reviews- business cards, flyers, table tents, etc. all branded with your information and ready to be printed (saving you hundreds of dollars on professional designers fees)
Syndication of your reviews everywhere- on your website, online directories, Social Media (like Facebook, Twitter, LinkedIn, Pinterest, Photobucket, FourSquare, and more). Plus you can share these reviews via text, images and/or videos.

Plus more…
In a nutshell, this is what we do for you when you become our client: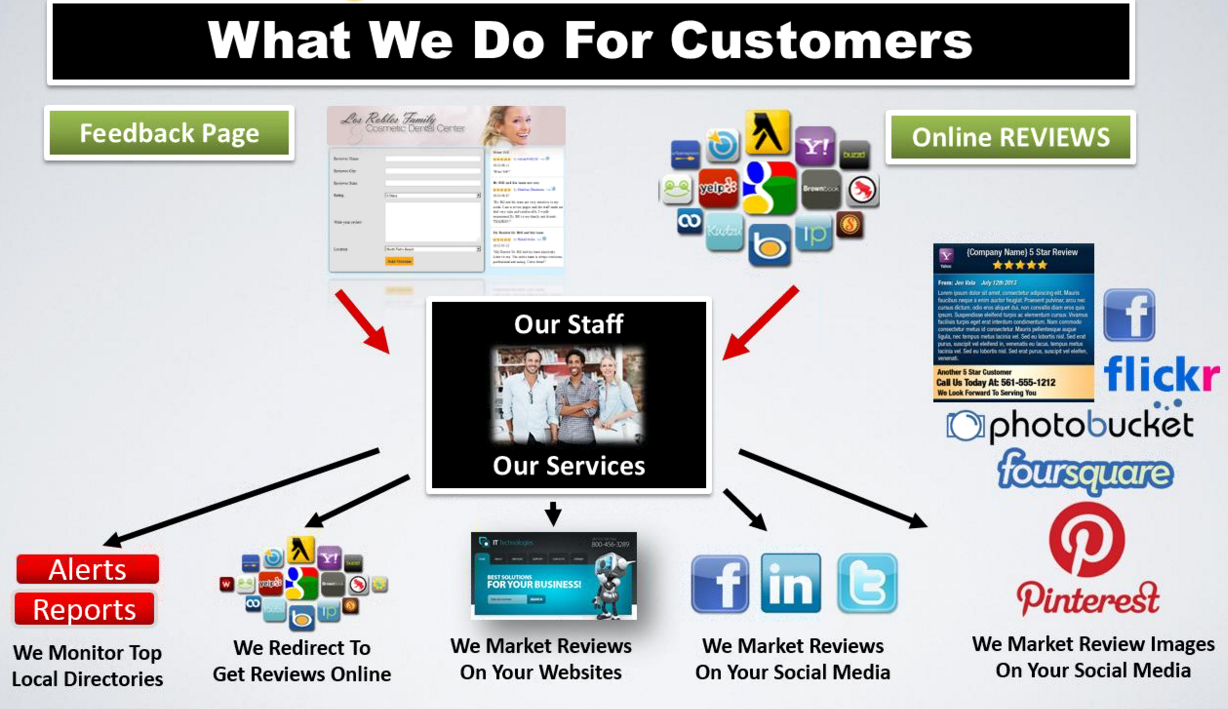 Our proven Reputation Marketing Services Strategies and Business Growth Systems leverage the combined power of Reputation Marketing and our Interactive Lead Generation & Follow up Systems to get your business found EVERYWHERE prospects are looking for you online and get those prospects looking for the services CHOOSE you, refer others and buy from you again and again.
One factor to consider is that if we work with you to get YOU recognized as the #1 Authority in your field for your local marketplace, we won't be able to work with your competitor. We can only work with one business per niche per city– which means you will not find us offering our services to your competitors.
So… the sooner you contact us, the faster we can start working on building and growing your Authority, your online Reputation and your overall Marketing Strategy.
Give us a call at (877) 596-6463 or (410 347-1811. We will be happy to answer any questions you may have.